(Video 7 of 8 of a small set of videos compiled by PurplePower, under the name: Pandemic and vaccine hoaxes?)
THE BIG RESET MOVIE (ES►EN/ES/IT/ES)
We may remember 2020 as the year that changed our lives, the year in which everything we trusted collapsed. Under the umbrella of fear, our fundamental rights have been undermined, and now, moreover, we are being vaccinated. However, more and more of us are beginning to realize that there is something else behind it.
Basically, we have not been told the whole plan.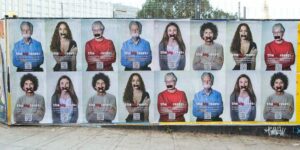 ---
After the resounding success and the feat of bringing 'The Big Reset Movie' to more than 20 cities in Spain this summer, renting cinema to cinema and achieving full houses in all the cinemas, 11 september 2022 was the long awaited Online World Premiere.
The documentary will be available for free on the official website www.thebigresetmovie.com and will be available in Spanish, English and French.
Far from the official narrative, it is time for the uncensored truth, and this time online and free, so that this message can reach every corner of the globe. 💫 🌍
Online premiere at: https://www.thebigresetmovie.com/